Fusion Centers
Fusion centers must be designed to operate as a truly collaborative information sharing environment. Fusion centers are defined as "a collaborative effort of two or more agencies that provide resources, expertise, and information to the center with the goal of maximizing their ability to detect, prevent, investigate, and respond to criminal and terrorist activity." As is the case with EOCs, these centers demand clear operating procedures, staff roles, and responsibilities, and a supportive workspace, to include effective technology. All Hands Consulting offers an array of consulting services that can assist you in maximizing the effectiveness of your fusion center. Our offerings are consistent with the guidance contained in FEMA CPG 502 Considerations for Fusion Centers and EOC Coordination.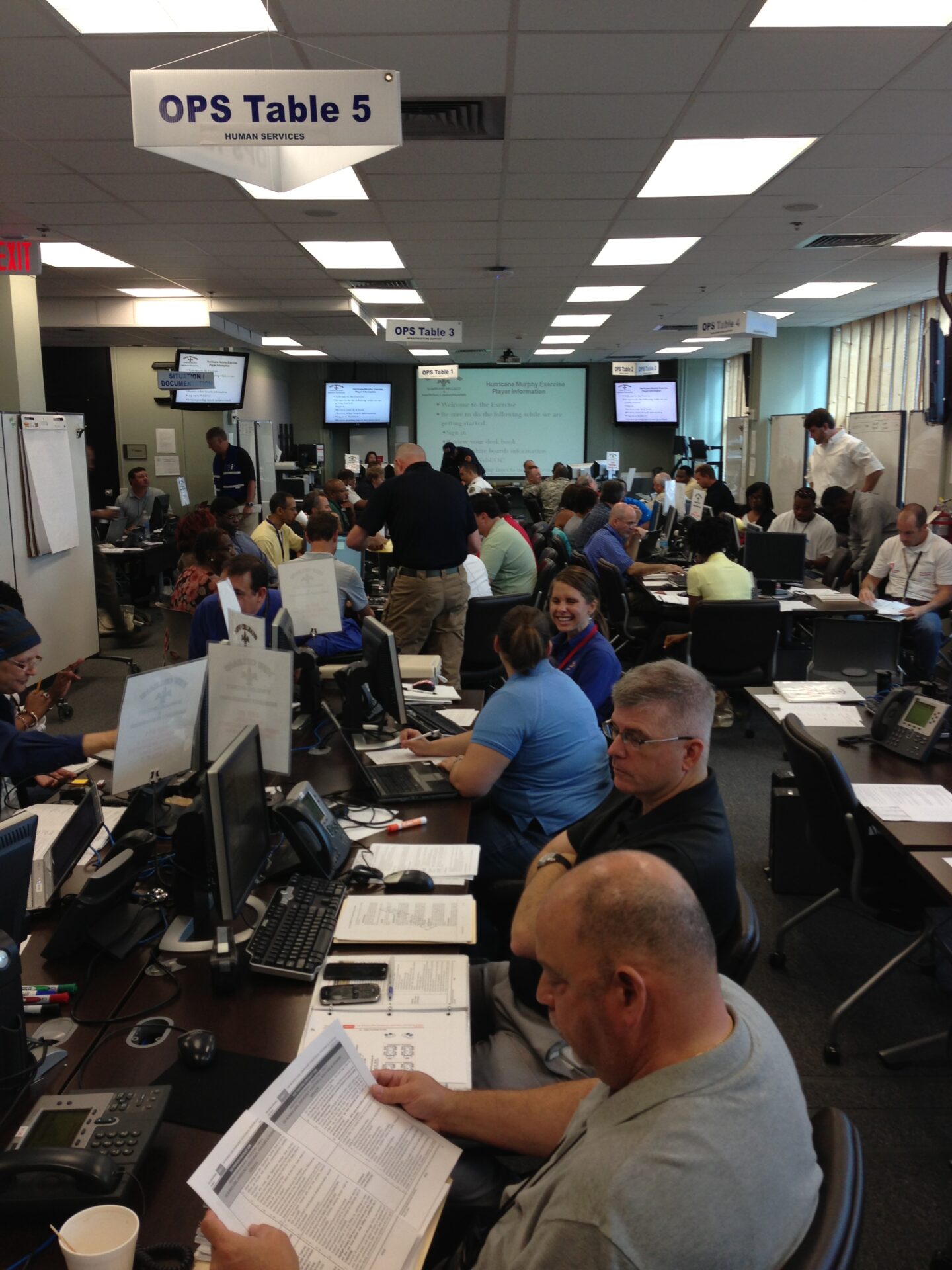 According to CPG 502, the fusion process is a cornerstone for the effective prevention of threats, including terrorism and other crimes, by State, local, tribal, and territorial governments. The term "fusion" refers to the overarching process of managing the flow of information and intelligence across all levels and sectors of government and the private sector. It goes beyond establishing an information/intelligence center or creating a computer network. Many fusion centers have undertaken an all-crimes and/or all-hazards approach, as well as the inclusion of multi-disciplinary and non-law enforcement partners in their processes. Ultimately, the fusion process supports the implementation of risk-based, information-driven prevention, protection, response and recovery programs. At the same time, it supports efforts to address immediate or emerging threat-related circumstances and events.
Fusion of Data
The ultimate goal of the fusion center concept is to prevent terrorist attacks; however, these centers can be used to prepare for and respond to other man made or natural disasters. As a Congressional Research Service report noted, there is no one model for how a center should be structured.
"Data fusion involves the exchange of information from different sources – including law enforcement, public safety and the private sector – and, with analysis, can result in meaningful and actionable intelligence and information," noted a Department of Justice guidelines paper.

"The fusion process turns this information and intelligence into actionable knowledge. Fusion also allows relentless re-evaluation of existing data in context with new data in order to provide constant updates. The public safety and private-sector components are integral in the fusion process because they provide fusion centers with crime-related information, including risk and threat assessments, and subject-matter experts who can aid in threat identification."
While many of the fusion centers began with purely counter terrorism goals, many have moved toward an all-crimes and all-hazards approach.
All Hands Emergency Fusion Center Services
All Hands Consulting can help you with your Fusion Center in a number of ways:
Design – we will design an effective and efficient fusion center from the ground up.
Review – we will review your existing fusion center and help you improve it both physically and operationally by development of your organization including writing your Operations Manual and developing Staff Action Guides.
Technology – we will help you choose and implement the best technology and software solution and help you integrate existing or new technology with fusion functions.
Training, Exercises and Drills – we will design, facilitate and conduct fusion exercises and drills that meet your specific needs.
Design Considerations
A properly designed fusion center must serve as an effective and efficient facility for information sharing and collaboration. Depending on local preference, the center may be used to deal with "open source" or "sensitive but unclassified" information but it could also be used for developing and/or using classified intelligence products which would require a Sensitive Compartmented Information Facility or "SCIF" as part of the facility.
Fusion centers help prevent and detect terrorist threats by effectively integrating disparate streams of information and intelligence (I&I), including I&I flowing from the federal, state, local, and tribal governments, as well as the private sector.  By "fusing" this data, a more accurate picture of risks to communities, and the population and infrastructure within, can be developed and translated into actionable intelligence leading to actions to prevent or reduce the impact of terrorist threats.
The fusion center can help prevent terrorism but can also be used to support preparedness for manmade and natural hazards and provide a response capability that can react quickly and efficiently should an emergency occur.  Fusion centers should work as part of the national network of information sharing and intelligence analysis as well as monitoring interests overseas.
There is no one-size-fits-all approach for how a fusion center should be designed. While state and local law enforcement are at the core of many of fusion centers, many such facilities are taking an "all-hazards" approach and including other first responder disciplines as part of the operation . In addition, some fusion centers are based on an "all-crimes" approach seeking to find indicators of threats in every day crime activity while also benefiting non-terrorism related law enforcement activities.  Other centers act as a planning cell, combining scenario- and risk-based planning functions with I&I activities.  Under any approach, prevention of terrorist attacks is a high priority and "fusion" of disparate data is a must for the rapid development of actionable pre-event intelligence.
Design Process
Fusion Centers can be stand-alone or combined or collocated with local Emergency Operations Centers, local or federal law enforcement facilities, or other entities.  The All Hands Consulting team can help you identify fusion center design alternatives based on your local needs and preferences.
All Hands works with you and your organization to customize the design of your fusion center.  We can provide comprehensive guidance and recommendations on the development of center design and concept of operations, including effective space utilization, technology, and compatible multi-functional uses.
We provide guidance on all aspects of your fusion center design, including recommendations involving electrical/data circuit layout, security considerations, lighting functionality, projection displays, visual aids, support and mission equipment, communication issues, UPS/backup power, and functional considerations including ergonomic, mission process and workflow thus avoiding potential pitfalls in EOC design, construction, and equipment functionality.  This includes a review of architectural and engineering contract deliverables, including initial thru final design before acceptance by the jurisdiction. Follow-on review can be conducted including proposed amendments to ensure potential construction pitfalls are avoided.
Technology
Fusion Center software must allow you to effectively manage the vast amount of information that is generated in a fusion center. We assist you in the selection, implementation, and configuration of fusion center software. We can also assist you with total integration of all telecommunications, computing, visual displays, video and video teleconferencing, and alarm systems onto computer platforms operating within a multiple screen, virtual desktop environment.  All Hands provides the services that you need. Services may include:
Populating databases
Customizing for local issues
Applying your nomenclature
Modifying forms
Integration of maps and mapping data
Customizing reports
Adding information and links
Creating or modify documentation
Organizing and defining roles
Setting user role and security settings
Acceptance testing
Review of command center operations and communications
Training staff and conduction exercises
Training, Exercises and Drills
All Hands will design, facilitate and conduct fusion center exercises and drills.  We have extensive experience in conducting tabletop and functional exercises. In addition, All Hands provides Incident Command System (ICS) training.  We will help your staff discover the need, purpose and benefits of implementing the ICS concepts in managing any type of emergency situation.
Experience
All Hands consultants are extremely experienced in the design and operation of emergency operation and fusion centers. More information, including our project work history is available upon request.