BUSINESS CONTINUITY PLANNING
Our typical approach to Business Continuity Planning and BCM Plan Development is to work closely with the client organization's staff to develop a comprehensive plan based on a five-phase project plan as follows Business Impact Assessment (BIA), Business Continuity Plan (BCP) development, Staff Training, Business Continuity Plan Validation: Drills and Exercises, Program Effectiveness Evaluation & Monitoring.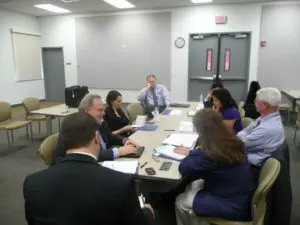 The BIA is typically conducted as part of our comprehensive business continuity service. A joint client and All Hands team will identify, review, evaluate and prioritize issues that pose potential crises and/or negative impact for the client's business operations.
The joint team will also analyze the client's current overall business continuity management planning efforts. The BIA is a diagnostic survey that consists of issue analyses, risk identification, and assessment of potential business impacts and crisis situations. The diagnostic survey assists us to determine the client current capabilities, level of training, and categorization of potential business disruption situations.
Contingency planning should be an integral part of your overall business continuity management process. Business Continuity and emergency planning requires a thorough review of your organization's entire operation for safety and operational vulnerabilities. Following a business impact assessment (BIA) methodology, you should review essential operations as well as key suppliers, business, and data partners as well as infrastructure components that are deemed vital. Planning must include detailed contingency plans that will guide your organization in performing its critical functions during a disruption or disaster.
All Hands Continuity of Operations and Continuity of Government services are based on the belief that COOP and COG plans should be developed as part of a Comprehensive Emergency Management Program using a planning process based on federal guidance, industry standards (such as those from the Business Continuity Institute), and best practices in emergency management and continuity planning.
COOP and COG plans should detail all of the procedures that define how a government and the community will continue or recover its minimum essential functions in the event of a disaster.
Plan Maintenance services help you maintain and update your plan as a living document. All Hands members are experienced in maintaining plans with or without software. We have consultants experienced in using various planning software tools.