All Hands Consulting can design, facilitate and conduct any type of exercise, custom tailored to meet the needs of your organization. We have extensive experience in developing customized EOC training and in conducting exercises using the Homeland Security Exercise and Evaluation Program (HSEEP) guidance.
All Hands Consulting has extensive experience in HSEEP compliant exercise planning and delivery. We have conducted hundreds of exercises across the HSEEP spectrum of operational and discussion-based exercise types. We have conducted three simultaneous major storm exercises, large regional WMD full-scale exercises, a combined federal/regional mass migration exercise, as well as hundreds of tabletop and functional exercises.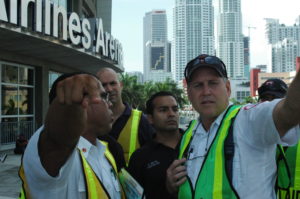 Training and Exercise Plans
All Hands has conducted numerous Training and Exercise Planning Workshops (TEPW) and related Improvement Planning Conferences (IPC) and developed an Urban Area Three-Year Training and Exercise program that was used across the State of Florida.
After Action Reports and Improvement Plans
All Hands develops HSEEP-compliant After Action Reports (AARs) to document the lessons learned and improvements needed based on the exercise outcomes. We provide managerial and technical consulting services to review and make recommendations on the program evaluation plans and procedures; implementation and content; exercise and test design; use of post incident analysis products; documentation; frequency; and to develop any needed improvement elements. This includes an assessment of existing exercise planning and delivery documents and the identification of elements based on requirements.
Compliance Review
All Hands is a full service emergency management consulting firm and can provide compliance reviews. In particular, we can review exercise and test requirements; industry best practices and standards, and assure that all work products are in compliance. Options for compliance will be developed if warranted. The review of compliance includes: HSEEP requirements, NFPA 1600, and EMAP standards.