Threat Assessment Programs
All Hands offers a variety of assessment and analysis services to assist our clients in determining an organization's security and preparedness posture based on the vulnerability to specific threats and the effectiveness of current security activities. Through threat assessments and periodic site reviews, All Hands is able to discover new and existing vulnerabilities to your facilities, personnel, and operations. By partnering with All Hands for ongoing assessments, you reduce costs by putting our collective knowledge base and our expert team of security and emergency management experts to work for you.
All Hands can also provide threat assessment training and terrorism prevention training for your staff.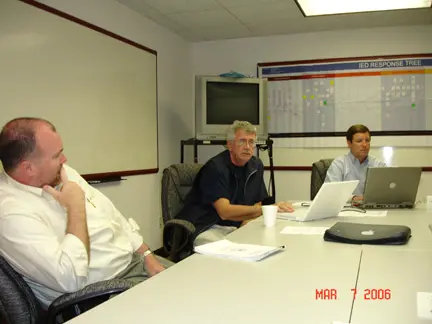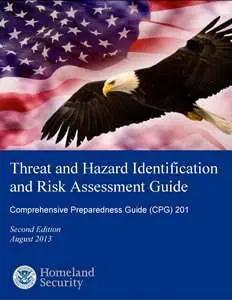 Our THIRA process closely follows FEMA's Comprehensive Preparedness Guide (CPG) 201, Second Edition which was released in August 2013.  In addition, we use the identified threats and hazards in setting capability targets for each core capability identified in the National Preparedness Goal as required in Presidential Policy Directive (PPD) 8: National Preparedness. These core capabilities are typically assessed using the State Preparedness Report (SPR) assessment tool.
Threat Assessments
The three major functions of a threat assessment program are: identification of a potential perpetrator or terrorist, assessment of the risks of violence posed by a given perpetrator at a given time, and management of both the subject and the risks that he or she presents to a given target.  All Hands Consulting can assist you with your Threat Assessment Program by providing experienced team members in the following functional areas.
Functional Areas for a Terrorism Threat Assessment
The basic concept of anti-terrorism vulnerability reduction is the focus on two broad areas, namely: preventing a terrorist incident from occurring, and failing that, mitigating the effects of a terrorist act.  In combination, the proactive and reactive capabilities within these two broad areas form the nucleus of the essential elements for deterring and combating terrorism.  To fully assess these areas, vulnerability analyses are divided into the five functional areas listed below.
Terrorist Options
Security Operations
Structural Analysis
Infrastructure
Operations Readiness
Functions
The following describes the threat reduction functional area expertise for vulnerability analysis efforts:
Leadership.  The leadership activities include overall management, training, monitoring of the on-scene performance of the vulnerability analysis team members.  Other activities include:
Ensuring the team assists the client in developing their Anti-terrorism Program
Interacting with and supporting the team member specialists to ensure a coherent, applicable anti-terrorism assessment
Ensuring the quality and technical completeness of the vulnerability analysis out-brief to the installation
Ensuring the quality and technical completeness of the vulnerability analysis report
Ensuring that the team is properly prepared and equipped
Overseeing the pre-deployment collection and analysis of prepared intelligence and other information to support the deployment
Serving as the team's primary point of contact with the client.
Terrorist Options. Key activities include examining the installation's assessment of the current and projected terrorist threat, the threat assessment process, and selecting illustrative targets based on their vulnerabilities.  Other duties include:
Assessing the client's estimate of terrorist operational capability, intentions, activity, and the operating environment influencing terrorist groups
Assessing the client's threat assessment process and procedures for collecting, analyzing, processing, producing, and disseminating terrorist threat information
Assessing exploitable information and vulnerabilities which, when viewed by a terrorist, assist in the targeting process
Identifying and evaluate the vulnerability of illustrative targets
Identifying illustrative targets and the method of attack for each target, based on exploitable vulnerabilities. Generally this will be no more than three targets
Formulating and suggesting corrective measures
Security Operations. Key activities include installation, facility, and personal security and safety.  Duties include:
Assessing the overall efficacy and executability of anti-terrorism and other associated plans
Assessing overall physical security and security operations
Assessing the security forces, security force augmentation program and the adequacy of equipment and resources available for use by both regular and augmented security personnel
Assessing access control and perimeter barriers to the installation and high population centers
Assessing relationship with and support from local law enforcement and other security agencies
Assessing the anti-terrorism education and training status of personnel assigned to the installation
Assessing personal and executive protection and training for high risk personnel/billets
Assessing the vulnerability of transportation and mail
Formulating and suggesting corrective measures
Structural Assessment.  Key activities include estimates of damage based on illustrative attack scenarios; suggestions for damage prevention and/or mitigation.  Specific activities include:
Assessing damage mechanisms including air blast, fragmentation, and debris and shock produced by potential threat weapons. Calculate hazardous radii based on threat and weapon effects
Assessing building and barrier resistance or mitigation of threat weapon effects. Determines appropriate standoff distances, potential hardening or other mitigating measures
Assisting other team members and local engineers with the engineering aspects of anti-terrorism
Providing self-assessment tools to the client leadership and staff
Performing weapons effects analysis of identified targets using the weapon/ tactic associated with the target
Formulating and suggesting mitigating measures
Infrastructure.  Key activities include infrastructure security including mechanical, electrical, and other service systems; fire, safety, and damage control.  Specific activities include:
Assessing fire-protection systems, fire suppression, and fire alarms to determine their ability to facilitate evacuation, initiate a response, and extinguish fires resulting from a terrorist incident
Assessing the electric supply and distribution systems to determine if power will continue to be supplied to critical facilities during a terrorist incident
Assessing fuel storage and delivery to determine if they can be exploited by a terrorist to divert first responders and/ or be a casualty multiplier
Assessing telecommunication facilities and distribution systems to determine vulnerabilities of critical nodes, which if lost could hinder an emergency response to a terrorist incident
Assessing the water supply and distribution systems to determine their vulnerability to waterborne contamination
Assessing heating, ventilating, and air-conditioning (HVAC) systems to determine vulnerability to WMD
Formulating and suggesting corrective measures