THREAT AND HAZARD IDENTIFICATION AND RISK ASSESSMENT (THIRA)
All Hands Consulting is uniquely qualified to provide Threat and Hazard Identification and Risk Assessment (THIRA) services having conducted 12 THIRAs for Urban Area Security Initiative (UASI) cities and for other emergency management programs nationally.  All Hands supported the first THIRA using the SPR process for the Phoenix UASI and piloted the Capability Estimation process as part of a capability assessment and strategic planning process for the Baltimore UASI. We subsequently prepared the 2012 THIRA for Baltimore was noted by FEMA as an exemplar for others to follow. In 2013 we updated the THIRA and used the State Preparedness Report (SPR) to conduct a capabilities assessment. These projects were then used to update the UASI's Homeland Security Strategy, resulting in a fully integrated planning process.
Our THIRA process closely follows FEMA's Comprehensive Preparedness Guide (CPG) 201, Second Edition which was released in August 2013.  In addition, we use the identified threats and hazards in setting capability targets for each core capability identified in the National Preparedness Goal as required in Presidential Policy Directive (PPD) 8: National Preparedness. These core capabilities are typically assessed using the State Preparedness Report (SPR) assessment tool.
CPG 201 describes THIRA as a four step process:
1. Identify the Threats and Hazards of Concern. Identify the Threats and Hazards of Concern. Based on a combination of experience, forecasting, subject matter expertise, and other available resources, identify a list of the threats and hazards of primary concern to the community.
2. Give the Threats and Hazards Context. Describe the threats and hazards of concern, showing how they may affect the community.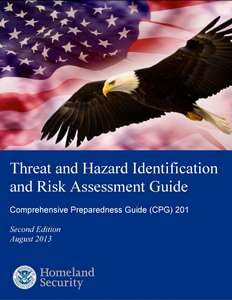 3. Establish Capability Targets. Assess each threat and hazard in context to develop a specific capability target for each core capability identified in the National Preparedness Goal. The capability target defines success for the capability.
4. Apply the Results. For each core capability, estimate the resources required to achieve the capability targets through the use of community assets and mutual aid, while also considering preparedness activities, including mitigation opportunities.
We have significant relevant experience:
Conducting THIRAs on a regional and county level.
Conducting and producing a Capabilities Estimation on state, county and regional levels.
Working with local governments and stakeholder partners.
Conducting workshops, interviews, stakeholder meetings, planning sessions, analysis review meetings and THIRA sessions to include interviews, plenary and workshops.